MP3 Free Downloads

Walter Egan continues to write and record impressive new songs. Two examples from his privately circulated Demonstration Recordings CD, Love In A Time Of War and It's Over, are below. As with all of the mp3 files here, just click on the title of each one to download a copy for your personal use.

Love In A Time Of War by Walter Egan (mp3 192 kbps, 3:31, file size 4.8 mb).

It's Over by Walter Egan (mp3 192 kbps, 4:24, file size 6.05 mb).

Free by Walter Egan (mp3 192 kbps, 3:17, file size 4.5 mb).

Love Me Tonight by Walter Egan (mp 3 192 kbps, 2:44, 3.75 mb).

About the two new songs above, Walter writes: "The tracks were recorded [in the summer of 2005] at Steve Allen's Blue Planet studio, with Steve engineering and sharing production with me. Ronnie Krasinski is on the drums and Ed Cain plays the bass. I do pretty much all the rest. Additional vocals on Free are from Jamie Kyle." The songs are copyright © 2005 by Walter Lindsay Egan Music.

Full Moon Fire by Walter Egan (mp3 192 kbps, 3:40, file size 5.2 kb). The first single from Walter's 1983 album for MCA/Backstreet Records, Wild Exhibitions. The song charted in Billboard magazine's national top 40 in the spring of 1983.

Lovin' You by Walter Egan (mp3 128 kbps, 5:17, file size 5 mb). A rare outtake from Walter's first Columbia album Fundamental Roll (1977), the album that featured the first collaboration among Walter and Stevie Nicks and Lindsey Buckingham of Fleetwood Mac. An audiocassette copy of a rough mix of the studio recording of Lovin' You was recently discovered in the archives of Peter Barry Chowka, who digitally restored it.

An mp3 of the original version of Walter Egan's 1978 mega-hit Magnet and Steel can be downloaded from a fan's site at this URL.

And there is also this very special song available for download. . .

Penelope Lane by Sageworth & Drums (mp3 192 kbps, 3:13, file size 4.4 mb). From 1968 to 1973, Walter Egan's band was Sageworth & Drums (a.k.a. Sageworth). It evolved from a group of Georgetown University undergraduate students playing weekend mixers and parties to a tight, professional headlining act with a reputation as one of the best and most original bands in the greater Washington, D.C. area. In late 1971, Sageworth relocated to Boston and spent the next two years performing around the Northeast before finally breaking up, at which point Walter moved to Los Angeles and began his career as a solo artist.

On the evening of June 30, 1969 Sageworth & Drums played at a high profile, society arts benefit for the Washington Theatre Club at the Door Store on the Waterfront in Georgetown, the vibrant community in Northwest Washington, D.C. Sageworth's two hour long performance consisted of both original numbers, all of them written by Walter, and covers of folk-rock and rock songs of the period (by artists including the Byrds, Buffalo Springfield, Jefferson Airplane, and Chuck Berry). The entire gig was recorded and the original ambient stereo quarter track tape was recently restored and digitized by Peter Barry Chowka, the lead singer in Sageworth and Drums in the summer of '69.

Penelope Lane, a song written by Walter Egan, was performed by Sageworth and Drums that night. The personnel heard on the Penelope Lane mp3 download here, recorded live at the Door Store on 6/30/1969, are:
Walter Egan, lead guitar and backing vocals
Peter Barry Chowka, lead vocal and guitar
Matthew Sheppard, drums
Tom Guidera, bass and backing vocals
John Zambetti, guitar and backing vocals
To read the Washington Post article published on July 1, 1969 about the Door Store benefit, click here.
To see a photo of Sageworth & Drums in the summer of 1969, click here.
Upcoming Live Appearances by Walter Egan

March 22, 2008 Walter Egan live at Russ and Julie's House Concert, Oak Park, CA

On Saturday, March 22, 2008, Walter will be playing a house concert at Russ and Julie's home in Oak Park, California. The venue, a casual, comfortable, intimate private home setting known for memorable house concerts featuring nationally recognized performing artists, is in southeast Ventura County about 45 miles northwest of Los Angeles, near the cities of Agoura Hills, Westlake Villlage, and Thousand Oaks.

If you're within driving distance, this is an unparalleled opportunity to hear and meet Walter. The event includes a pot luck dessert buffet with coffee and soft drinks.

Details and reservations at Russ and Julie's House Concerts' site. If the house concert concept is new to you, you can read all about it here.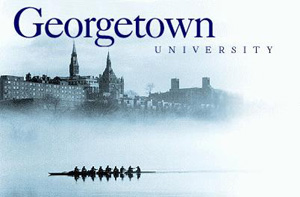 News Release February 11, 2008
Georgetown University, Washington, D.C.

Known worldwide to music lovers (and crossword puzzle enthusiasts) as "Mr. Magnet and Steel," Walter Egan has come home to his Alma Mater with an exhibit of his paintings.

As one of Georgetown's first Art majors (College 1970), Egan went on to make his name in the popular music business as the composer of "Hearts On Fire" (recorded by Gram Parsons and Emmylou Harris) and the composer and performer of his own million-selling Billboard Top Ten hit, "Magnet and Steel" (1978). He has released eight solo CDs to date and has played with artists including Linda Ronstadt, Jackson Browne, Fleetwood Mac, the Eagles, Spirit, Wanda Jackson, Randy and the Rainbows, Burrito Deluxe, the Brooklyn Cowboys, the Malibooz, and his college band Sageworth.

Now Egan has returned to Georgetown as an adjunct professor leading the Music Industry Seminar for the Spring 2008 semester.

A sculpture major at Georgetown, Egan has had a parallel career in the arts, concentrating on printmaking and painting, during his time in the music business. His exhibit will run until the end of April in the downstairs gallery at the Davis Center on the GU campus. Admission is free.

In addition, on April 4th, Egan will perform a solo concert of original material at McNeir Hall on the GU campus as part of the ongoing Friday Concert series. The free concert begins at 1 PM.